(Manchester)
---
Extracts from article written for QSO – Geoff Valentine…

Affectionately known as Alf's academy – attended from September 1972 until December 1975 upon leaving signed articles on the Bibby Line OBO Ocean Bridge/GYKA. I can still envisage the lay out of the three story Victorian Building in the photograph above, flanked on one side by the offices of the 'Union of Boiler makers' and a rather seedy cinema next door to the union office, which was used by the Asian community.
There used to be a blue notice board in the front garden with the college address and starting dates for courses, and also a flag pole. there was a rumour that there used to be daily flag break!! The college staff of course headed by Alf Wood's who as well as being principle also took various lectures. He had a dedicated staff, Mr Mike Southern, who eventually took over from ALf on his retirement, who took us for the MRGC lectures and also took CIty and Guilds courses for those students who wanted to undertake extra studies.
Mr Harry Burgoine he could make a morse key sing, and it was always a pleasure to attend his lectures. He also took us for operating procedures and it was with his help that many of us managed to get through the Post Office examinations. There were of course other lecturers there, but unfortunately I cannot remember there names. The secretary was a Mrs Sparks, honest, she used to drive the same type of vehicle as Alf, a DAF variomatic, powered by the equivalent of a large rubber band.
Then there was Mrs Griffiths who used to run the canteen at lunch time – the Lancashire hotpot was really welcomed during the winter months, as with it being an old building suffered from damp and draughts.
Oh happy days – ones which I would like to go back to!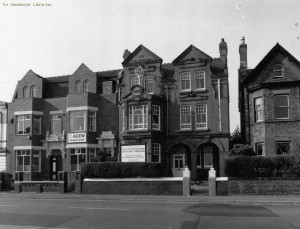 Note the Bellini-Tosi DF aerial on top of the second story bay window. From memory, this also was a lecture room, the ground floor directly below was the set room, and the room above being utilised for the radar equipment, which in 1975 when I did my BOT radar ticket comprised of the Escort 651 valve radar, and the infamous Raymarc 12.
To the left of the AUEW union building was the Asian cinema, now a builders supply venue, next door to that was a small building which also belonged to the college, this is were most of the theory lessons were under taken. Further towards the Whalley Hotel, the usual Friday afternoon watering hole, and on the opposite corner is a rounded building which was the main office for the principle Mr Mike Southern. These buildings can be viewed by downloading 'Google Earth', and entering into street view.