(Greenock)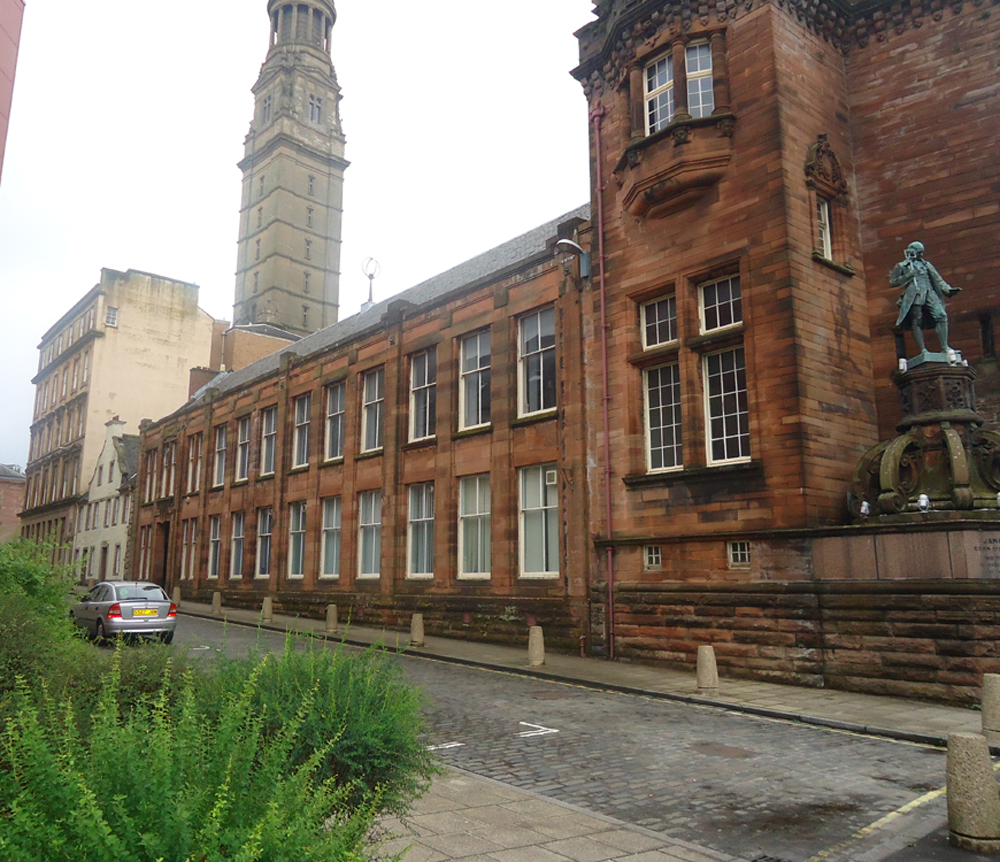 Joe Duffy writes:
At long last I have managed to collect enough info to have a Scottish Training School represented on our ROA Website.
Please see the attached photos of the James Watt Memorial School, Dalrymple Street, Greenock with yours truly and my old class mate Joe Henry (1956/57), who was on holiday from Brisbane visiting family in Greenock.
Joe also became a member of the ROA after our meeting.
This building was built, paid for and opened in 1908 by none other than Dr. Andrew Carnegie. It was originally known as the Watt Memorial Engineering and Navigation School, the Radio/Radar section added later.
The BTH Radar scanner was removed from the spire area above James Watt's statue but you can still see the Marconi Belini Tosi DF loop aerial just to the right of the tall council building on the roof of the red sandstone Watt building. The upper floor of the red sandstone building was the radio classrooms and the radar room was situated in the top room above James Watt. I'm not sure when the Watt College ceased to function and the local council have no future plans for it. When Joe and I where students at the Watt the lecturers were as follows:-
Mr Fleming, Mr MacDonald, Mr McIlroy, Mr Corcoran, Mr Bolton and Mr Carney.
I believe Mr Carney is the only surviving lecturer from that period. Hopefully some other ROA members may come forward with more photos and /or comments regarding the Watt College, or even spur on other Scottish ROA members to show other Scottish based training schools of which I'm sure there are a few!